Welcome to the ChannelNEXT20 virtual freestyle Channel "Hang-Out"… A new type of virtual networking experience that is as close as possible to meeting in-person!
We have created this virtual hang out for all channel professionals who crave a casual, uncomplicated get-together. It's the next best thing to actually meeting in-person at ChannelNEXT Live. Until in-person comes back, we all need to make the best of our virtual reality.
What is it?
No theme. No speakers. No agenda. No keynotes. No workshops. No emcee. No prizes (well, maybe some prizes). Just 100% fluid and freestyle virtual networking. What you find and get is all up to you! For 90 minutes, any channel partner can join for free.
When you enter the virtual session you will see  "virtual tables" for 6 people, 4 people, 3 people and 2 people. Just double click to join any table and you will be instantly transported into a live video chat where you can introduce yourself, meet real people, share stuff, connect on LinkedIn, learn or just listen to the conversations. If you want to have a private meeting with someone, then just jump on a table for 2!
Jump in and out of tables as often as you wish. No judgement. No rules except the obvious to be kind and courteous (and wear clothes :o)).
Remember to tag up your LinkedIn profile so people can get to know you and instantly connect directly with you in real-time. It's a cool feature that make connections super easy.
All participants can move freely from virtual table to table. Some tables may be sponsored by vendors or have a special discussion theme. Attendees can actually name the discussion topic at the table. Connect with peers, vendors, distributors, experts – anyone. Just keep on joining tables and meeting people to see where it goes…
Remember to turn on your camera & microphone to make it fun.
If you get lost, just come to the ChannelNEXT Team table for support.
Note: Mobile devices do not work properly on this platform. Some tablets and older browsers can also be a problem. You will receive information on doing a pre-test of your system to ensure you are all set to go!
Join us on September 23 between 3:00 PM and 4:30 PM EDT. Come have some fun and talk business at the same time.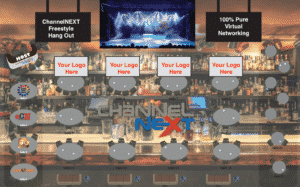 NOTE: Our popular Mastermind Sessions, to solve your pain points and build best business practices through coach-led peer-to-peer collaboration, are now held every week. You can join a Mastermind session whenever you are ready. It can be a one-time activity to test it or you can become a member to a permanent group that meets quarterly, monthly or as often as you wish. If you are interested in the Mastermind program or upcoming schedule, please go to  ChannelPartnerAlliance.