SaaS and Cloud are everywhere around us. Data centres are the infrastructures that feeds the Cloud and broadband delivers everything to our devices. All combined, it's driving the next generation of a digital-first economy that has now been exponentially accelerated since the Pandemic. When all of these components work in harmony, then the user experience becomes magical with the ability to work from anywhere, anytime and on any device (of course you always have to add a layer of cyber security, but we will leave that for another time).
This October we are about everything SaaS, Cloud and Data Centres. This is a monstrous topic with tens of thousands of players so there is no way we could showcase a significant number. However, we will showcase a solid selection of SaaS vendors that are outstanding in its category.
Our keynote will be on a soon to be released book called "Real Results in a Virtual Economy". It explains why transitioning into a digital-first mindset and playbook is the only way to future proof your business. It will also highlight how to find and select the right-fit channel partners to help any business deliver on their digital transformation and open the door to a new digital marketplace. We will be interviewing the two authors who have been working on this book for a while and is a highlight of their outstanding careers in the digital world and business development. It's a must-read! And, we will showcase a free more big surprises! Could this one tool be the door to opening up more sales opportunities and success than you ever thought possible? Come find out!
On the educational side, we will feature some interesting discussions and experts around the following issues:
Selling SaaS and Cloud to businesses in today's economical conditions
Developing a digital-first business culture that will attract more end-clients
Optimizing SaaS and Cloud performance to deliver a better and safer user experience
Integrating Cloud management solutions that will save time, reduce coasts and accelerate value
Expanding your SaaS and Cloud portfolio without too much heavy lifting
Protecting your SaaS and Cloud solutions on compliance issues
Finding the right SaaS and Cloud solution to fit your business need
Building a digital sales team
Running on Private Cloud vs Public Cloud vs Hybrid infrastructures
Reviewing your current SaaS and Cloud portfolio to build a stronger road map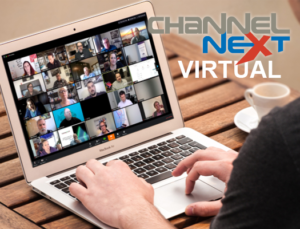 Agenda* (Times shown in EST zone)
12:30 PM: Registration, system check with pre-event meet & greet! You should login sometime between 12:15 and 12:30 to test your system, video and mic. You will be let into the main session at 12:30 PM. Remember that you will receive the link to the session by e-mail and you will have several reminders. Search for TechnoPlanet, Eventbrite or ChannelNEXT in your e-mail and you should easily find (please whitelist these names to ensure it goes to your inbox).
How it works: It is up to each person to decide to turn on or off their camera or simply show an avatar or picture. We prefer if everyone shows video as it just makes it more engaging and fun. You can toggle on and off as you wish. Just remember to self-mute your mic when you are not speaking. We will have several breaks so you stretch, get something to drink or eat (will also play some fun treasure hunt and trivia games for prizes). Please do NOT log out or leave the session as you will have to re-enter through the "virtual waiting room" so we can re-verify your access and let you back in. This is a security measure to ensure only registered delegates enter the session. You will receive full contact information of all speakers and exhibitors in the virtual guide. It is very important to use the exact name as how you registered, including the same e-mail address so we can match and verify your access (and also assign you to the workshop track that you pre-selected). It is the only way we can match names and keep the process secure. FYI – All contact information from all attendees are not stored in the virtual event platform and all data is wiped clean once the session is over. We do not want any contact information floating around in cyber space :o). Thank you for your understanding and cooperation as we all experience more virtual activities together!
12:30 PM: Official Event Kick-Off & Overview
1:00 PM to 1:45 PM: "Real Results in a Virtual Economy". Get the ultimate roadmap for building business in a digital-first economy. Two authors of this new book will make the case for a digital-first business mindset and how the channel partners play the biggest role. This can be a game-changer for all channel partners who want to be part of the digital-first economy by helping lead their clients. If you are a channel partner or a vendor with a solution that helps businesses in their digital transformation, then do not want to miss this one!  

We will also be introducing a new online resource for MSPs to keep on learning about everything they need to be successful, 365 days a year (live and on-demand). Every day we will have LIVE masterclasses on different topics by experts. All will be recorded so members can check out on demand. Extended training sessions will be offered for MSPs who would like to go deeper and get a professional course completion certificate. Members will also get many more benefits from this virtual resource including the ability to meet up virtually in peer-groups and special deals. This is all happening through the Channel Partner Alliance as they expand the program from in-person to virtual.
1:45 PM to 2:00 PM: Break and some fun virtual games
2:00 PM to 2:30 PM and  2:30 PM to 3:00 PM:  6 workshops (2 will run in parallel in 3 virtual rooms). You get to pick which virtual room to attend, but you also get the recordings of all 6 workshops for on-demand viewing and sharing with your colleagues.

How it works: Delegates will be automatically placed into the Virtual Rooms to experience the 2-workshops track that they choose. Every registered attendee will be sent a link (a few days before the event) to select the meeting room that they prefer to attend. If no selection is made, each attendee will be automatically placed into a workshop room. No need to worry about missing any session because everyone will receive a recording of every workshop for on-demand viewing! All workshops will be 100% educational and relevant in today's market. A lot of effort has gone into building these workshops and selecting the right speakers. All workshop speakers will be live and can show slide presentations, share documents and answer questions. Everyone will be available after the Lions' Den on their Virtual Expo Tops where you can carry on your conversations with them and your peers through video, voice or chat.
Current workshop topics (Check back often as we finalize).
Retaining SaaS and Cloud Customers: Much has been already said about the value proposition of SaaS/Cloud. While Hybrid solutions are still viable, the pandemic has boosted the demand for Cloud beyond all predictions. It's now a common part of the digital first business economy. That said, MSPs must become the go-to experts for businesses AND ensure that they do not just become an end-user acquisition cost for the SaaS and Cloud vendors. We will discuss how MSPs can sell any SaaS/Cloud solution and RETAIN their clients. This is a MUST-ATTEND for ALL MSPs as we showcase a powerful MUST-HAVE solution for MSPs to do this.
Selling in a digital-first economy. The digital-first economy means your sales team, process, tools and playbook will have to adapt and work in harmony to be successful. If any of these factors are out of line, you will be at a competitive disadvantage. Trying to rely on the traditional selling game in this new digital world is not be wise. Get the ultimate roadmap in building the ultimate digital sales warriors and playbook to gain a competitive advantage.
Digital Transformation Business Advisor. This is basically the new breed of channel partners that end-customers will be seeking out. It is easy to say digital transformation but what does it actually mean for your customers and how do MSPs become that trusted digital business advisor to attract and retain customers. MSPs must build their expertise to become Digital Transformation Business Advisors and we will explore how they can do this.
Security and compliance. This is the foundation of all SaaS and Cloud deployments. Without the proper security and compliance measures in place, both the MSP and the end-customer are at severe risks. In this session you will learn about assessing and meeting the security and compliance thresholds required for the MSP and end-user to be successful.
Building your own Intellectual Property (IP). This is the golden ticket for building a stronger business valuation and future proofing your business. It does not mean that you have to be developing an actual SaaS or Cloud solution. It can be your security stack and the process you built around it to deliver and manage. Learn how to build real IP and increase your business valuation. It is one of the best ways to future-proof your business and make more money.
Reevaluating your current SaaS/Cloud stack to maximize your profits. Do you have all of the necessary moving parts to offer your clients the best possible solution? Are you able to deliver the right digital transformation solutions to your customers? In this session we will discuss how you can review your current stack verses your customers' needs and build out a more comprehensive portfolio with no gaps. Leaving too many gaps will expose your clients to more risks and you may become more vulnerable to competitors poaching your clients.
3:00 PM to 3:15 PM: Break and fun virtual treasure hunt games.
3:15 PM to 4:00 PM: Virtual Lions' Den: Check out the presentations by our line up of vendors! A quick and easy way to see which vendors warrant a further discussion in becoming part of your current portfolio. All participating vendors will be seen live on video to make their 3-minute pitch! Virtual attendees will be able to instantly vote for their favourite presentation.  One vendor will win the "Virtual Warrior Award". And, someone from the audience will win a cool prize! If any vendor peaks your interest, you can them again in the virtual table top expo starting at 4 PM.
4:00 PM 5:00 PM: Virtual Table Top Expo!
How it works: Join any of the vendor "virtual table tops" to carry on the conversations or meet one-on-one. Vendors can do whatever they want at their table tops. Only 6 people allowed per table any any given time so we will limit your time to 10 minutes to allow others to join. (You can always re-click to join in for a second 10 minutes.) We wrap up at 5 PM EDT, but vendors may also host an additional private post-event web conferencing session to carry on further discussions.
Note: The complete event guide with detailed information about the attending vendors, speakers, bios and contact information will be sent to registered attendees only.
All times are EST time zones (Toronto/ New York).
NOTE: Our popular Mastermind Sessions to solve your pain points and build best business practices through coach-led peer-to-peer collaboration, are now held every week. You can join a Mastermind session whenever you are ready. It can be a one-time activity to test it or you can become a member to a permanent group that meets quarterly, monthly or as often as you wish. If you are interested in the Mastermind program or upcoming schedule, please go to  ChannelPartnerAlliance.